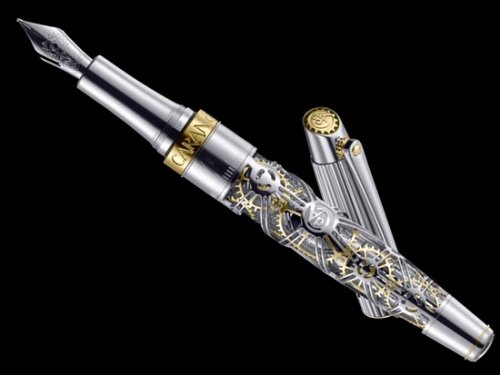 Behold. Now you know what A-hole bankers use to sign checks back and forth to each other. It's called the 1010, a limited edition 18k gold pen from Swiss company Caran d'Ache. The idea is that this piece is to "celebrate the special genius of watchmakers." It gets the 1010 name because of the look of a watch's hands at that time of day or night. This expensive and ludicrously fancy update to the feathered quill pen doesn't even have working gears. Those gears are all non-working, making this an expensive ruse with another ruse.
Some other allusions to timepieces include the clip that looks like a watch hand, the decorative balance wheel mounted between two rubies under a sapphire dome, and then there's the tiny tick marks etched around its barrel. It even has a ruby-studded piston pump to move the ink from its interior to its nib. That's right I said nib.

I said it because this sort of wasteful cross-breeding of pen and watch really gets under my skin. Well, you can have your fancy pens Mr. Banker…When your golden parachute lands you on your ass, the proctologist can remove it from your tight white rectum. You fell. Ha. Like he's never heard that one before.
[Caran d'Ache] via [Very High End]
Caran d'Ache, expensive, pen, swiss, watch