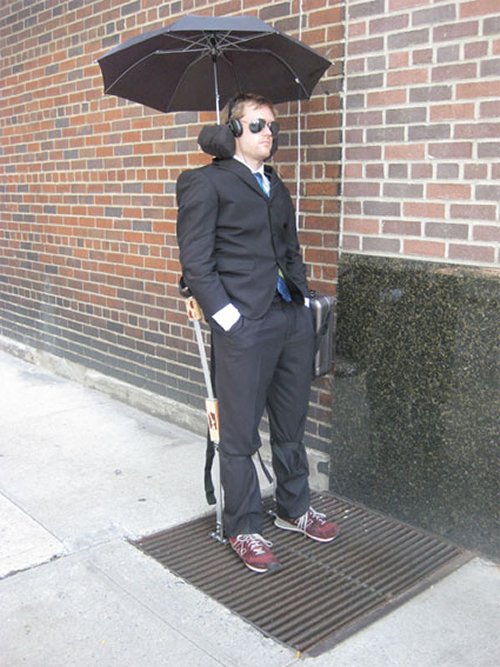 The artist who created this concept will tell you that it's some artsy-fartsy way to make a statement and get yourself some polyphasic sleep, which is the practice of sleeping multiple times in a 24-hour period, but really it's just an excuse to be lazy whenever and wherever you want. So lazy that you don't even lay down. In fact, it's a new epidemic of laziness sweeping the globe. This guy basically walks around with his Vertical Bed in a suitcase, finds himself a nice spot, anchors his bed above subway vents and sleeps for about 40 minutes a pop.
Whole damn days must really pass him by. There's a concealed harness that makes sure he doesn't fall over and sleep horizontally. He's also wearing noise canceling headphones and double-mirrored sunglasses, padded with little cushions that keep his eyelids closed. In case of bad weather, an umbrella clips in the infrastructure for shelter. I don't know, sounds like he's doing a lot to force his body into sleep. But that's not the worst of it.

These people are so lazy, they refuse to dream. And when they wander into dreams accidentally, they refuse to interact and make it black and white. Counting sheep is strictly forbidden. If sheep show up for counting, they are mentally slaughtered before the sleeper goes under, he then blocks out the slaughter because he can't deal with the fact there was probably a lazier way he could have done it. It's sad. So sad. And so very lazy.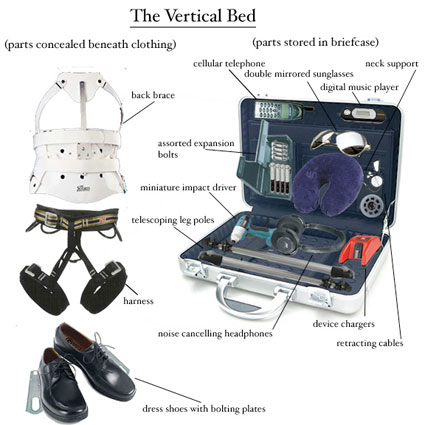 art.lazy, Sleep, upright, Vertical Bed