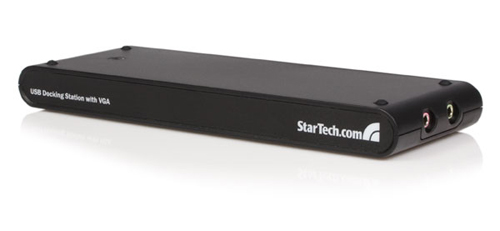 StarTech.com unveiled today its new USB to VGA 4-in-1 Docking Station. This laptop computer accessory is priced around $130.
The USB to VGA 4-in-1 Docking Station houses, according to StarTech.com, "a DB15 High Density (female) VGA port, as well as four USB A (female) ports, one USB Mini B (female) port, one RJ45 (Female) 10/100Mbps network port, and two 3.5mm audio (mic, line out) ports." A single USB connection is all that seems necessary to access all of these ports.
StarTech says other features of this docking station include three different video operating modes, including desktop extension from primary display to secondary display, and display resolutions of up to 1680 x 1050 (widescreen) or 1600 x 1200 (standard). It should be available now.