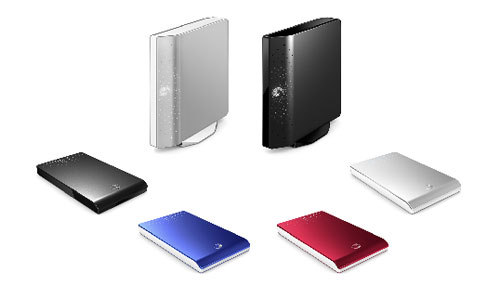 External storage is an important part of any backup strategy. No one wants to lose all the data on their computers in the event of an accident. Backing up data like documents, photos, music, video files, and other content on your PC is often best done to an external hard drive.
Seagate is one of the biggest names in external storage and today it announced its 2008 line of FreeAgent drives. The flagship drive of the line is the FreeAgent Go, which is only 12.5mm thick. The slim profile of the drive makes it the slimmest available today. Storage capacities are up to 500GB.
Several other drives were introduced as well including a FreeAgent Go Mac version with up to 320GB of storage for $189.99 and a Mac Desktop drive with up to 1.5TB for $349.99. A new FreeAgent Dock and Case is available that makes it easy to move the drive form system to system for $29.99. The FreeAgent Desk Drive for Windows can be had in up to 1.5TB capacities for $279.99. Seagate is also offering a FreeAgent XTreme Drive with up to 1.5TB of storage and eSATA connectivity for $299.99.
External Hard Drive, Seagate