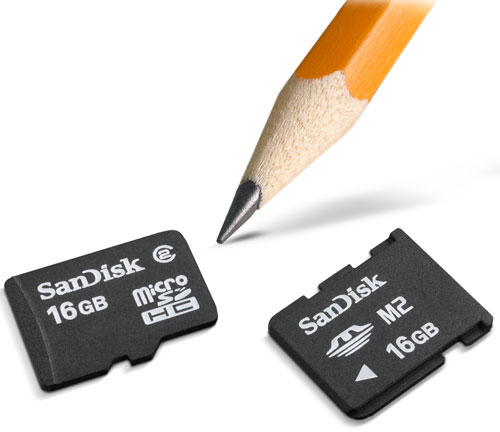 When it comes to our mobile devices we all want more, more features, more performance, more speed, and especially more storage. Music phones today can hold thousands of songs, but mobile users are always on the lookout for more storage space.
SanDisk announced the largest capacity microSD and M2 format memory card you can get. Both formants are now available in 16GB capacities. The cards require mobile phones and MP3 players that support microSDHC or M2 formats.
Pricing for the 16GB microSD card is $99.99 and the 16GB M2 card will retail for $129.99. Both cards will be available in November and for the remainder of 2008 will be exclusively sold through Best Buy Mobile and Verizon Wireless stores.
M2, microSD, SanDisk