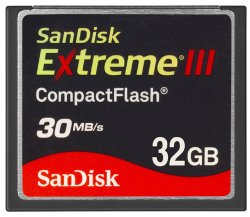 Today SanDisk has likely pleased at least a few more professionals in the digital photography and videography world with the introduction of the new 32GB Extreme III CF card. Not only have they doubled the capacity of the largest CompactFlash card SanDisk previously had available, but they've also bumped the read/write speed up from 20 MB/second to 30 MB/second with this new item.
Anyone that heavily uses memory cards for digital cameras or video cameras can appreciate how nice it is to have more storage in a single card, and upping the transfer rate by 50% makes the decision to get the larger 32GB CF card just that much easier. Sure you can generally get an SDHC card for a little less money and they are a little bit smaller, but the transfer rate is what will make a difference. The Kingston 32GB SDHC card for example can hold just as much, but moving the card's entire capacity of data is the difference between about 18 minutes for the SanDisk CF and 2.2 hours for the Kingston SDHC.
SanDisk says the new 32GB Extreme III CompactFlash card will be available in October of this year with an expected retail price of just under $300. If you can't wait and want to check one out sooner you can catch it at the International Broadcasting Convention in Amsterdam mid-September.
32GB, CompactFlash, Flash Memory, SanDisk