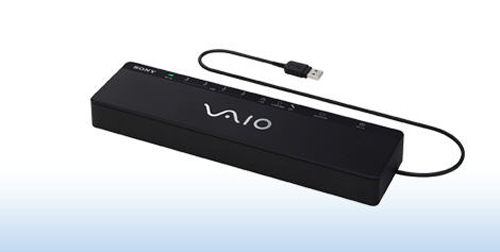 A new Sony docking station being made available for VAIOs makes use of DisplayLink technology for USB-enabled displays. It is called the Sony VAIO Docking Station (model number VGP-UPR1) and you'll find it available now for around $200.
The VGP-UPR1, according to DisplayLink, allows Sony notebook users to connect an analog or DVI display to a laptop using USB 2.0. It supports a resolution up to 1600 x 1200 and works with Windows 2000, Windows XP and Windows Vista 32-bit and 64-bit, including support for the Windows Vista Aero interface.
Connections enabled on this Sony dock include Ethernet, audio connections, four USB ports, headphone and microphone ports and DC in. It is small enough as well that it can be taken on the road with you, though it will require an AC connection to work.
computer accessories, DisplayLink, docking station, laptop computers, Notebooks, Sony, USB 2.0