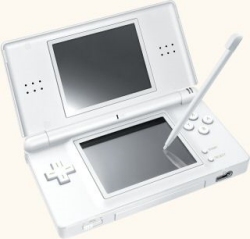 Nintendo has plans to launch a new version of the popular Nintendo DS handheld game console by the end of this year, and it sounds like they are doing more than just adding new colors this time. The new model, yet to be named, will feature a camera and music player, putting itself in competition with a larger number of portable devices and opening up a whole mess of new game possibilities.
This news does not come straight from Nintendo, or at least not yet. It does however come from the Sunday edition of The Nikkei Business Daily, which is a well renowned newspaper in Japan. The new DS from Nintendo is expected to cost around $190 in Japan compared to the $158 price tag on the current DS. The DS goes for $129 currently in the United States.
Nintendo is also reportedly planning on adding some enhanced wireless capabilities, allowing the device to connect to central terminals to gain information about your surrounding area.
Nintendo is planning on officially announcing this new product on Thursday at a press conference in Tokyo and as you might expect, it will likely launch in Japan first before coming stateside. It's expected in Japan yet this year but no date for going overseas has been set.
The main competition lately for the Nintendo DS is Sony's Playstation Portable (PSP). According to Enterbrain, the DS outsells the PSP globally but the PSP has been coming ahead of the DS consistently for months in Japan.
DS, Games, handheld game consoles, Nintendo, Nintendo DS