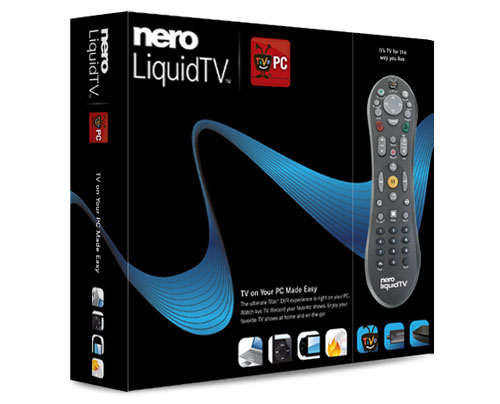 The DVR has been the best thing to happen to TV since programming went color. Before the DVR, we had to record shows with a DVD recorder or even worse — a VCR. Anyone who has tried to program a VCR to record a show that isn't on yet will recall the anxiety. The DVR came along and made recording programs as easy as clicking a button and one of the pioneers in the DVR realm was TiVo.
Nero and TiVo announced that they have teamed up for a new software and hardware product called Nero LiquidTV | TiVo PC. The product allows users to record TV programs on their PC with typical DVR ease as well as pause and rewind programs. Once TV programs are recorded, the shows can be exported to PSP, iPod or DVD automatically.
The kit includes a TiVo PC remote, TV tuner card, and an IR blaster for a wireless connection between the satellite or cable box and the PC. Also included is a one-year subscription to TiVo service. The hardware is compatible with Windows XP or Vista. Retail price for the retail kit with all hardware and software is $199, a software only version retails for $99.
Nero, pc, Tivo