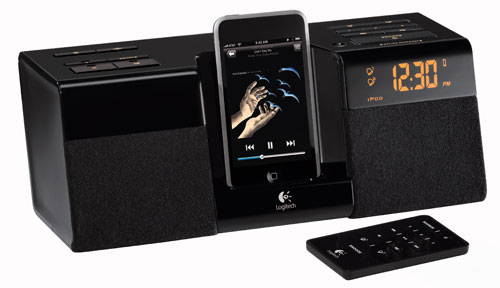 The iPod and iPhone are two of the most popular technology devices around and a slew of gadgets and accessories are available for both products. Even the bedroom is getting in on the accessory act for the devices with things like alarm clocks that wake you to your own playlist.
Logitech announced two new iPod/iPhone speaker docks today called the Logitech Pure-Fi Express Plus and the Logitech Pure-Fi Anytime premium alarm clock for iPod and iPhone. The Pure-Fi Express has omnidirectional speakers and can charge your iPod or iPhone as it plays music from the device. The dock features a wireless remote with a 30-foot range and can be powered by AC power or batteries.
The Logitech Pure-Fi Anytime has advanced motion-sensing technology and charges the iPod or iPhone as it plays music. The clock features a motion sensing backlight that turns on when you wave a hand over the clock. When the alarm goes off you can hit snooze by waving your hand over the speaker. The device also has a built-in AM/FM tuner. The Pure-Fi Express Plus and Anytime alarm clock will retail for $99.99 when they go on sale in October.
iPhone, iPod, Logitech, speaker dock