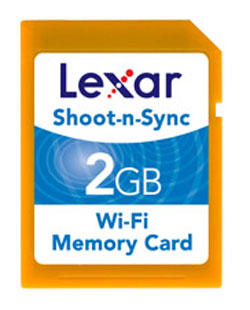 One of the things I dislike most about taking pictures is having to remove the memory card form my camera each time and load it into my card reader. I could directly connect the camera via USB, but I tend to forget to turn it off after I transfer pics so the battery is dead when I want to use the camera next time.
Lexar has a new SD memory card called the Shoot-n-Sync that will automatically upload images to my computer when in range of my wireless network. If the card sounds a lot like the Eye-Fi we have talked about before, it's because it uses Eye-fi technology.
The card has on-board Wi-Fi and 2GB of storage space. Depending on your Wi-Fi set up you could shoot images outside and have them go directly to your computer. Lexar also includes a USB card reader with the Shoot-n-Sync for the required one-time set up. Exact pricing and availability are unknown at this time.
Eye-Fi, Lexar, SD