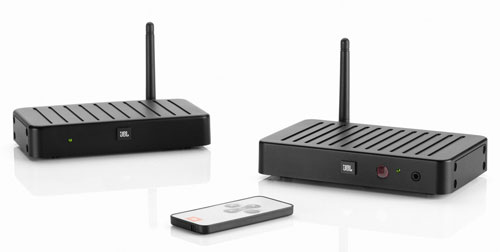 I remember trying to get my wife to agree to let me put 5.1 surround sound in our living room when we bought our first house. She was of the opinion that two small speaker wires running along the bottom of the wall would be the first thing other women would see when they walked in the house. I was of the opinion that she was crazy, but as is the way of women, she won out — for a while.
Thankfully, guys can preempt the old "wires are ugly" argument when they tell the wife or significant other that they want a surround sound system in the living room thanks to JBL. The new JBL WEM-1 Wireless Expansion module will turn wired loudspeakers into wireless units. The JBL system uses a receiver and amplifier unit with 50W of power.
The transmitter module connects to an audio source and the receiver/amp unit connects to a pair of speakers. The system features a remote control and has a 70-foot transmission range. Connectivity options include line-out and speaker-level outputs to accommodate a variety of components. The amp/receiver also has a local input for playback of music from a MP3 player. The JBL On Air WEM-1 Wireless Expansion Module will be available in September 2008 for $359.
JBL, Wireless Speaker