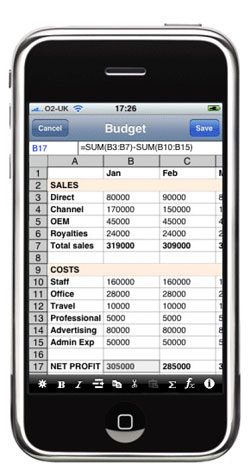 I have been using my iPhone since the original launched last year and I really like it. I will say that one of the biggest issues for me is still the on screen keyboard. It's hard to hit the right keys with any speed when I am typing an email or a text message. Thanks to that fact, I haven't missed the ability to type Word or Excel documents. I am sure some users have greatly missed the ability to use Excel though.
Softalk has announced a new application for the iPhone simply called Spreadsheet. The app is exactly what it sounds like — a spreadsheet. The program can be used to make all sorts of Excel-like spreadsheets that can then be emailed using the iPhone.
Completed spreadsheets can be emailed and opened with Excel 2003 and up. According to the maker of the application, it features more than 50 functions. Spreadsheet can be purchased from the App store for $7.99.
iPhone, Spreadsheet