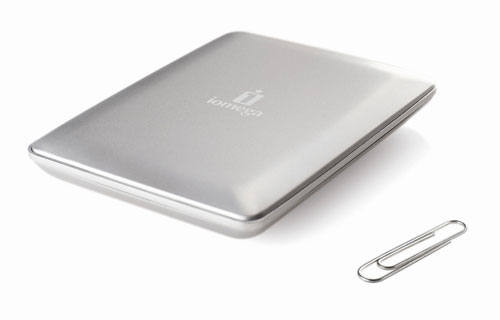 It's just not cool to drop lots of cash on a svelte notebook like the MacBook Air and then have to pair it with an ugly, fat, and plain external hard drive that is just too ugly to be associated with a MacBook Air. The good news for you is that Iomega has a new hard drive that is the perfect Air external drive.
The USB 2.0 hard drive is called the Iomega eGo Helium Portable Hard Drive. The drive is encased in aluminum, the same shiny hue as the Air, and shares the Air's thin profile. The Helium is a mere 16mm thick and weighs only 7 ounces. Inside the thin case is a 2.5-inch 320GB hard drive.
The drive comes pre-formatted with Apple's HSF+ file system and has Drop Guard technology to prevent damage and protect data from drops of up to 51-inches. The drive is completely USB powered and needs no AC power to operate. If you aren't a Mac aficionado, the Helium can be formatted for use with Windows based computers. The drive will be available in October for $149.99.
external storage, Iomega, MacBook Ait