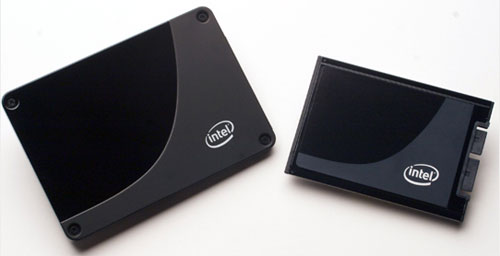 The SSD offers some nice benefits to the notebook users like increased battery life, faster boot times, and quieter operation. The catch is that at this time SSDs are significantly more expensive than comparable hard drives and the storage capacity of the typical SSD is low.
Intel has jumped into the SSD market with the introduction of a pair of SSDs aimed at consumers. The new SSDs include the X18-M and the X25-M. The X18-M is a 1.8-inch drive and the X25-M is a more traditional 2.5-inch size drive. Intel says that the improved performance of the SSD helps reduce bottlenecks between its CPUs and the storage system. This is the SSD used in the HP system claiming 24-hours of runtime.
Both of the new SSDs are available now in 80GB capacity. A 160GB version of the SSDs will be available in Q4 2008 according to Intel. Performance is about as expected for SSDs with a write speed of 70MB/sec and a read speed of 250MB/sec for the 80GB drive. Intel says that the 80GB versions of the SSDs are available now for $595 in quantities of 1000.
Intel, SSD, Storage