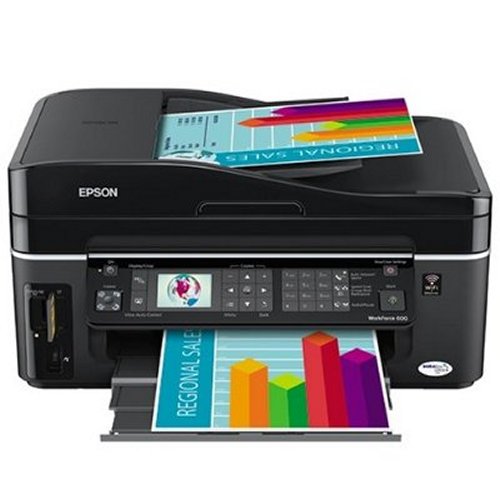 Printers can go either way. I've found that they are generally terrible due to high expectations, or in some cases they actually live up to the hype. I can tell you straight away, the Epson WorkForce 600 All-in-One Printer lives up to and even exceeds the hype. First, it looks great and it's not much bigger then your standard printer, so you don't need a lot of extra desk real estate. That's a good thing for anybody, but being designed for small and home businesses, it's a huge plus to have a work horse that looks good and goes just about anywhere. Some of the features on the 600 include WiFi capabilities, laser quality printing, fast printing speeds, built-in memory card reader, and a super handy LCD to preview your pictures and operate the whole thing effortlessly.
Right out of the box you get an ethernet cable, power cable, driver/software disc, user manuals, even sample paper, a small bit of phone cable and the necessary printer cartridges. No USB cable, which is common and with the Wi-Fi capabilities you really don't need one.

We were expecting setup to be a pain, but it was pleasantly hassle free. In this case I wanted to take advantage of the Wi-Fi capabilities so I set it up with that option, which was as simple as connecting the printer to my router with the ethernet cable and loading up the software. The software did seem to take it's time loading while it set up my wireless connection, which was no big deal. Once it was finished, my wireless connection was all set up and I removed the connection. It's that easy.
Using all of the Epson WorkForce 600′s features turned out to be just as easy. The interface on the front panel will take care of all your needs on the color LCD panel. Navigation and the editing of your photos is super easy. On the left of the front panel is the card reader and USB port. That's probably one of the handiest features as you pop the card in and select which photo you want to print from the thumbnail images. You can also scan documents and save them directly to the memory card or USB drive, making it easy to transfer them to your computer. That's probably the feature I use most.
In the back is where you load your standard printer paper, glossy photo paper etc, which can be adjusted for all the paper sizes and envelopes. On the very top of the unit is the automatic document feeder, capable of holding up to 30 pages for faxing or scanning documents. Just below that is the flat bed scanner that will scan and can be used as a plain old copier. If you lift the scanner section up, you'll find the compartment that houses the ink cartridges. Like everything else with this all-in-one, they are a breeze to load in and change.
I printed out all kinds of stuff and haven't been disappointed yet by anything that came out of the front tray. One thing that the 600 does exceptionally well is print photos on photo quality paper. Printing photos is probably the one thing that takes the longest speed-wise, but I say long only compared to everything else it does. It's still very fast at that. I would estimate that the typical photo takes just under a minute for the printer to create and is often faster. It depends on detail, colors etc.
Another of life's simpler pleasures is this all-in-one's Wi-Fi. It's really nice to be working on your laptop and have the ability to print something in a completely separate area of the home and know that it's taken care of and waiting for you when you are ready.
The best part is that it retails for about $199. That's a lot of bang for the buck. I would recommend it to anyone, not just the small business owner. The average Joe will get a ton of use out of it and be very happy as well.
For more information about the WorkForce 600 click here.
all in one, card reader, editor, Epson, fast, FAX, photo, printer, Review, scanner, speed, WorkForce 600