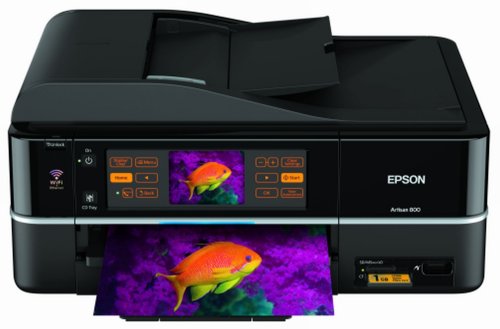 We recently got a chance to go hands on with Epson Artisan 800 All-in-One Printer. Just like the Epson WorkForce 600 All-in-One, it didn't disappoint. The Artisan 800 is geared toward the more creative type of office. Designed to combine sleek styling with high performance. It has many of the same features, but with a creative slant. The Artisan 800 features built in wired and wireless networking, ultra fast print speeds (38 ppm), 6-color ink, a 7.8" touch panel, a 3.5" LCD screen, standalone photo capabilities, faded photo restorations, and a smart ink system. The Artisan 800 is smaller then the Epson WorkForce 600, which is nice as it can be tucked away a bit more conveniently.
Out of the box you get an ethernet cable, power cable, driver/software disc, user manuals, some sample paper, a small bit of phone cable and the necessary printer cartridges. No USB cable, but if you plan on using it wirelessly, that's no big deal.

Setup was just as easy as the Epson WorkForce 600. For wireless, just plug the ethernet cable into the device and connect it o your router. You can also enter it manually if you like. Then once the software is installed, just disconnect the cable. Once that's done, it takes about 5 minutes to charge the ink and you're ready to go.
Using all of the 800's features is easy thanks to the touch screen interface, though navigation is not as effortless as the Epson WorkForce 600. Having said that, it's not too hard to figure out the buttons and find your way. The touchscreen panel can be pulled up at an angle and tucked away again making it easy to use. Navigation and the editing of your photos is easy thanks to the card reader and USB port. Just insert your card and you are good to go. If your card contains more then a thousand images, it will break it down into two groups of thumbnail photo sets. On the Workforce it was easy to find both groups. On this device I had trouble finding both, but like I said you figure it out easy enough and get to know the machine. You can also scan documents and save them directly to the memory card or USB drive, making it easy to transfer them anywhere.
There's a compartment tucked away in the bottom where you load your standard printer paper, glossy photo paper and other types, which can be adjusted for all the paper sizes and envelopes. On the top of the unit is the automatic document feeder, capable of holding up to 30 pages for faxing or scanning. Below that is the flat bed scanner that will scan and can be used as a plain copier. The compartment that houses the ink cartridges is just below that. Loading and changing the cartridges is super easy.
I put the device through it's paces and it's fast, delivering quality in every department. The 800 prints photos on photo quality paper super nice and even has a faded photo restoration feature that will give new life to your old memories, essentially cleaning them up as if you had just taken the pic. Pictures are fast! Another interesting feature is that it prints CD's if you have a printable disc. Just push a button and the CD tray slides out. Load in the CD, select the image and print. Just like that you have a custom CD with art on it.
I did mention that it is for the creative types. You can turn photos or drawings into coloring books, create personalized notepaper, even print lined paper should you have the need. Even create custom CD jewel case artwork to go with your custom CD. Some of the software included will help you make greeting cards, calendars etc.
Of course you have to love the Wi-Fi capabilities. You can do it all from anywhere in the house, so you get more done. The pricing isn't bad at $299.99 for all the features and ease of use that you get. My only complaint is that the touchscreen navigation should be more intuitive.
My final word on the Artisan 800 is Go get one. If I had to choose between this and the Workforce 600, it would be a hard call. But both are worth the price. You get a ton of features for your money. Both will serve any home or small business extremely well. If you use your computer more creatively The Artisan is the one for you and should serve you well for a good long while.
800, all in one, Artisan, Epson, Hands on, printer, Review