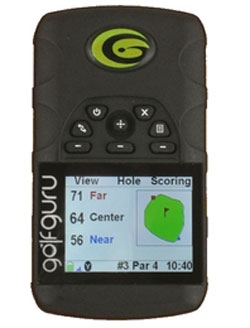 I have never understood the appeal of golfing myself and have never been to a real golf course. I take my kids to play put-put on occasion and typically, my 7-year-old beats me. As close as I care to get to a real game of golf is on the Wii.
For those of you who like real golfing, a new GPS tool is now better equipped to improve your game. The gadget is called the GPS Golf Guru Color Guru and offers a color GPS screen that is 320 x 240 pixels. The device stores information on 300 courses and up to 30 features per hole.
The map software is free to update and over 10,000 course maps are available online. A 16-channel GPS tuner makes it easy to get highly accurate distances from the pin. Battery power comes from an internal rechargeable that is good for up to 14 hours of use at a time. Pricing for the Color Guru is $369.95 for a limited time.
Golf, GPS