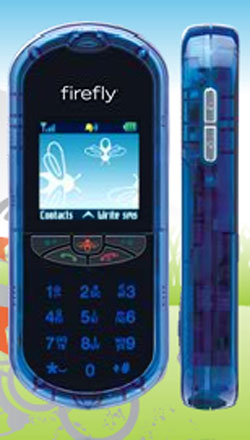 With everything kids have going on today, it's often easier to get them a cell phone so you can keep in touch at all times. Even young kids age five and up use cell phones today. They are a great way for parents to know where the kids are, even if they are just down the street.
The catch is that kids don't understand that using a cell phone too much or downloading things from the Internet can run up a bill significantly. You also have to worry that they could be subject to inappropriate calls from unknown users. Firefly has had a phone specifically made for kids on the market since 2006.
The phone only lets calls be received and sent from known callers. The company announced a couple new kid oriented phones recently called the glowPhone and the flyPhone. The glowPhone is aimed at 5-8 year old kids and has dedicated buttons for mom, dad, and emergency. It also offers games and a full color screen. The flyPhone is intended for users 9-12 and has a built-in camera, MP3 player, and FM radio. Kids can chat and text with the phone. Both devices allow parent to limit the number of minutes that can be used and are pay-as-you go phones.
cell phone, Firefly