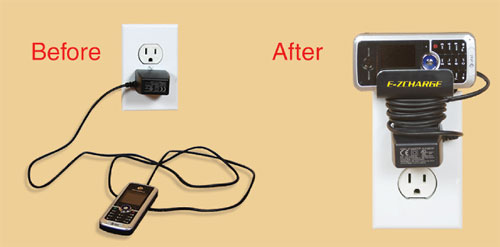 If you are married or have a live in partner that isn't into technology and gadgets and loathes cords, you probably know what a source of irritation cords can be. You know what happens, you go to plug your phone in, and the charger is gone, stuffed away in some drawer because it looked bad. You spend time hunting for it getting more irritated by the second.
The E-ZCHARGE Dock may be able to help you avoid cable clutter and hidden chargers. The device connects directly to any cell phone charger according to the maker and doesn't block the outlets around it. Once attached the excess cable can be wrapped around the non-slip surface of the dock and provides a place to store the phone.
Homes with pets and kids will also like that it gets cords up away from kids and animals to keep them safer. The dock measures 2″ x 2.5″ x 0.5″ and retails for $9.99. I doubt anyone will argue that $10 is too much to spend to get your wife to stop complaining about the cord from your charger lying on the counter.
cell phone, Dock