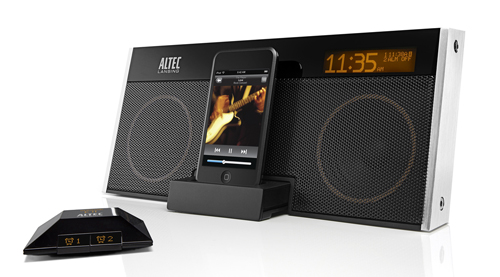 One of Altec Lansing's newest digital audio docking speaker systems is the inMotion Moondance GLOW. This hippie-sounding bedroom system will cost you around $180 when it emerges from a cloudy haze in October.
The Moondance GLOW is called as such because you can choose a color and intensity and then project it onto the wall. It is a strange feature but, if it gets you some bedroom action, so be it. Besides lighting the night bedroom sky, this compact digital player-plus-alarm clock has two 3-inch full-range drivers to produce sound and a dock for your favorite compatible iPod.
Other features of this Altec Lansing product include a FM radio with four station presets, dual alarms, onboard controls and an amber LCD display with dimmer light. It also has "a wireless snooze remote [that] offers alarm control from any location in the bedroom." That way you can have just a few more minutes to sleep off that drug-induced coma.
Altec Lansing, speaker systems, Speakers