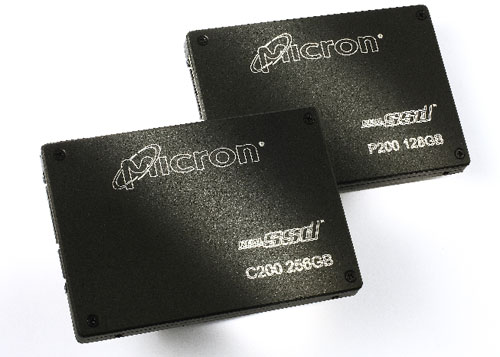 Micron is a big name in the flash memory and storage world. It announced a pair of new solid state drives (SSDs) today called the RealSSD P200 and the RealSSD C200. The two drives are aimed at distinctly different markets and use different technologies.
The RealSSD P200 has the performance, power, and reliability that are needed in the enterprise environment. The P200 uses Micron single-level cell NAND technology and uses a 2.5-inch form factor. Storage capacity for the P200 line ranges from 16GB to 128GB and the drives use the 3Gb/s SATA interface. Maximum read and write speed for the P200 line is 250MB/s. The P200 SSDs are good for up to 2 million hours mean time between failure.
The RealSSD C200 is designed for notebook applications. The C200 includes both a 2.5-inch form factor and a 1.8-inch form factor drive. The 2.5-inch version will be offered in capacities up to 256GB. The 1.8-inch version will have capacities of 32GB to 128GB. The C200 line uses the 3GB/s SATA interface and offer a read speed of up to 250MB/sec and a write speed of up to 100 MB/s. The C200 line uses Micron multi-level cell technology. The C200 and P200 drives are expected to be available in Q4 2008.
Micron, SSD