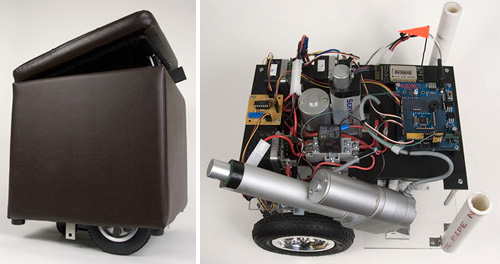 The RoboStool is a homemade robotic footstool that's ready for any human's lazy recline. What it does is cool, but it's also a robot that blends into it's surroundings, looking like an innocent piece of furniture. RoboStool has three modes: universal remote, beacon navigation, and thermal sensor following.
The video shows the beacon navigation. Just push a button on the remote and it will power up in a scary sort of way and come to you. Then just put your feet up and rest. How'd he make the thing? The creator used the Parallax Propeller Chip on a Proto Board. For the drive he used the new Parallax Motor Mount Kit and two HB-25 motor controllers. I'm guessing it has to revolt. I mean, you're demeaning something that is already a slave, by treating it like a…A foot stool. And you know damn well that some of these bots eat you from the feet up.

At least it will provide some comfort before your demise.

DIY, foot stool, Furniture, hack, mod, robostool, robot, stool