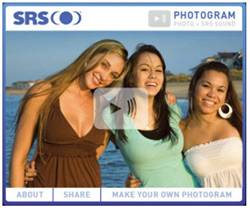 To the most popular social networking platforms online right now are Facebook and MySpace. A large number of applications are available to allow users of these websites to add more functionality to their personal pages already. Another new widget has been announced today, this time from SRS Labs.
The new SRS Labs widget is called Photogram. It allows users to add sound effects to photos posted online. SRS Labs says the sound effects are easy to create and utilize its familiar SRS audio processing technology.
The widget is a free application that members of the social networking sites can add to the comments or profile section of their webpage. An example of use for the widget is adding beach sounds to photos from a beach vacation, or adding the sound of applause to a dancer recital photo. Some effects are available in surround sound and all have been enhanced through SRS audio processing. Currently available sound clips for the widget include categories like — emotions, animal sounds, nature, modern life, you're a star, and cartoon favorites.
Facebook, MySpace, SRS