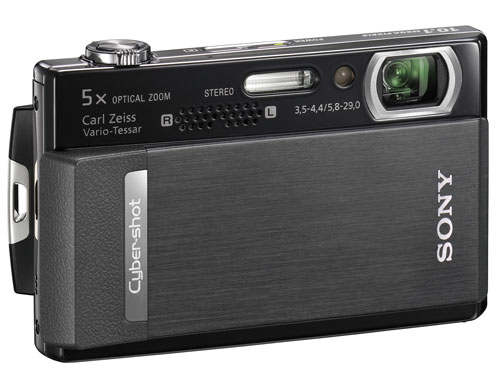 This has been quite a week for introduction of new digital cameras. This week Canon announced its new DSLR camera called the EOS 50D. A plethora of other cameras was also introduced by various manufacturers.
Today, Sony pulled the wraps off its own new digital camera called the Cyber-shot DSC-T500. The camera stores images to the Sony proprietary Memory Stick — one of the lines biggest drawbacks if you ask me. The camera has a 10-megapixel sensor and can record video as well.
Video can be recorded at up to 720p resolution at 30 frames per second. Movies are recorded in MPEG4 format with AVC/H.264 compression and audio formats. Video clips up to 10 minutes long can be recorded. The camera has a 3.5-inch touchscreen and a Carl Zeiss 5x optical zoom lens. Other features include Optical SteadyShot and ISO sensitivity up to 3200. The camera also features HDMI out. The T500 will be available in late September for $400.
digital camera, Sony