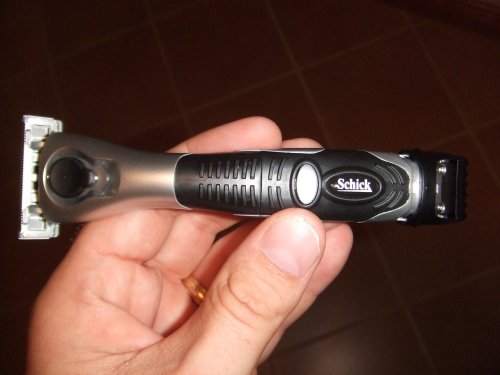 How the folks at Schick knew we were a hairy bunch here at the 'Brick is beyond me, but we're glad they did since we got the chance to try out this new Schick Quattro Titanium Trimmer. We're really not in the habit of reviewing personal hygiene products such as razors, but this one is kinda' cool and runs on batteries so we thought we would make an exception.
This is that razor that you've most likely seen advertisements for recently which uses a single AAA battery to run a small trimmer on the handle end of the device. The Quattro Titanium gives you a razor and a trimmer in one compact package that is all waterproof so you can take it in the shower. The AAA battery is held in a sealed compartment that can be accessed and replaced by giving the handle a half-twist and pulling it apart. The razor/trimmer is a little heavier than most razors and was the first thing we noticed after taking it out of the package, but it had a very solid feel and was easy to hang on to while using.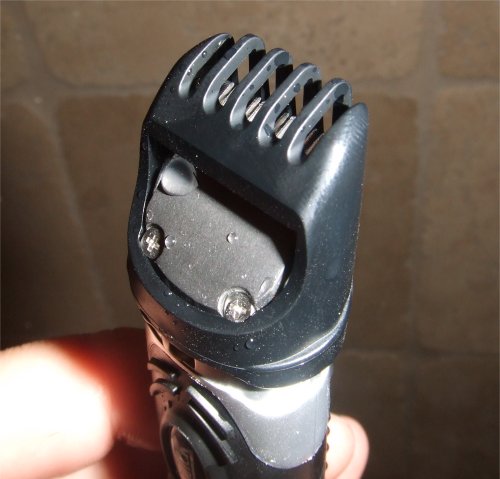 The razor portion of the device has 4 blades and pretty much worked similar to other razors of this type, but the trimmer side is the real point of interest here. It has an adjustable guard over it that can be adjusted in 4 different positions for trimming length and aside from being a little bit narrower than other trimmers we used, it worked perfectly. We did note that the adjustable guard is held in place by a few notches, but there is no real way to lock it in place while using. If you use a little too much pressure while trimming the guard could slide and cause a little closer trim than desired, but under normal use for us this did not happen.
The Quattro Titanium was also quite durable, withstanding a series of drops onto the shower floor tile from heights varying from 2 feet to 6 feet. The razor head would occasionally come detached but would easily snap back on. The device also withstood 3 hours of continuous complete submersion underwater, and the trimmer to submersion vodka seemed to have no effect either as it continued to work without missing a beat. The trimmer/razor goes for about $10 and comes with a single blade and a single AAA battery, with replacement blades going for around 4 for $10.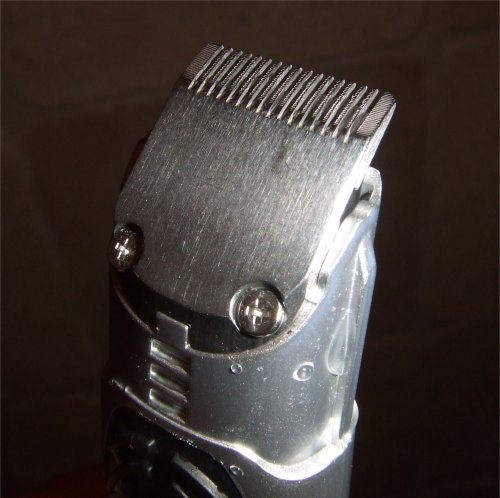 Summary
The Schick Quattro Titanium Trimmer worked very well and provides a good trimmer and razor in one compact package that can be used in the shower. It is completely waterproof and even stood up to our ever popular vodka-proof test with flying colors and is durable enough to withstand multiple drops due to slippery fingers. The trimmer was adjustable but lacked a locking mechanism to keep it from moving which worried us a little bit, but under normal use it worked well and is tough to beat for the $10 price tag.
Schick Quattro Titanium Trimmer
personal hygeine, razor, Schick, trimmer