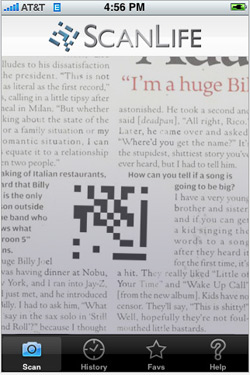 For a long time one of the things that drove users of cell phones to upgrade to newer devices was the addition of a camera. Today, pretty much every cell phone produced features a camera built-in. Typically, these cameras aren't that high quality, but work in a pinch to take pictures on the fly. However, applications are starting to surface the take the use of a cell phone camera to new levels.
A good example is a new application available today for the Apple iPhone via the Apple App Store called ScanLife. The application allows iPhone users to take pictures of 2-D barcodes with the iPhone camera, and then link to more information about the product associated with barcode. According to Scanbuy — the maker of the ScanLife application — ScanLife can launch any URL address.

When Wi-Fi access is available, the application can also send users directly to an iTunes page allowing them to preview or purchase a song simply from scanning the 2-D barcode associated with the song. It can also send users to specific YouTube page to watch videos after scanning a barcode. Some advertisers are also starting to use 2-D barcode and advertising campaigns to promote products. These barcodes can be read by the application to provide the consumer with more information without having to perform a search or type a URL. The application can be downloaded now from the iTunes App Store at no cost.
App Store, iPhone