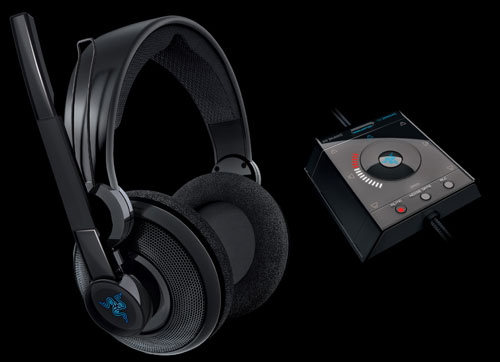 The PC gamer needs to have a good set of headphones with a mic. Many gamers prefer headphones to external speaker systems, because they feel like they can hear more of the game sounds with headphones. Razer has a set of headphones on the market called the Barracuda that work very well. Today, Razer announced two new sets of gaming headphones that use its new Maelstrom Audio Engine.
Razer says that its Maelstrom engine can process positional audio 800% faster than comparable virtual surround systems. The Razer Megalodon headphones feature 7.1 surround sound and will retail for $149.99. The headphones have a frequency response of 20 to 20,000 Hz and 40 ohms impedance. The headphones also feature a mic for in game chat and will be available in Q4 2008.
Razer introduced its Moray in ear noise isolating gaming earphones that can also be used to with MP3 players in any other device using the 3.5 mm mini plug. The Moray headphones retail for $39.99 and will be available in Q4 2008.
Headphones, Razer