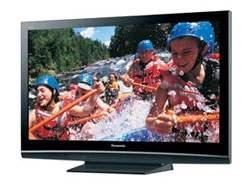 Not too long ago my dad had his old TV go out after a lightning strike, so he asked me to head to the local Best Buy with him to get a new TV. I realized two things straight away. First, the vast majority of employees at Best Buy are morons. Then I realized most Best Buy TV salesman use the lower lifespan of plasma TVs compared LCD TVs to talk shoppers out of going plasma. Personally, I prefer plasma to LCD because you usually get more contrast and a brighter picture.
Panasonic has announced new plasma TVs in its VIERA 1080p line that will make the lifespan argument against plasma TVs a moot point. Panasonic says its new 1080p plasma HDTVs are rated to last for up to 100,000 viewing hours before they dim to half brightness.
That's a significant increase in lifespan compared to Panasonic's 720p line, which is rated for 60,000 hours. Panasonic says that based on the average daily viewing time for Americans of 6.5 hours, its new TVs would last 42 years. That would mean for some of the older crowd out there, a Panasonic plasma TV could be the last TV set you buy. That is assuming you use a surge protector as I told my dad before his TV was fried.
HDTV, Panasonic, Plasma