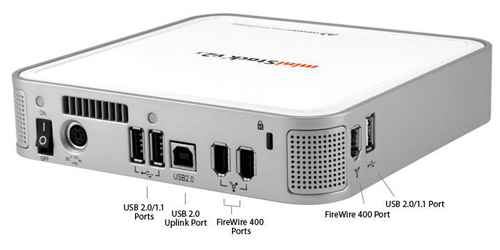 Newer Technology was busy this past week showing off a new  FireWire/USB hub for data storage. It is called the Newertech miniStack v2.5 and pricing, depending upon hard drive storage size, runs up to around $280 for 1TB.
The Newertech miniStack v2.5 is a FireWire 400/USB 2.0 powered hub storage solution, according to its maker. At its maximum storage offering of 1TB it can reportedly store upwards of 1 million JPEGs, 350,000 MP3s or 500 DVD quality movies.
On the backside it holds three FireWire 400 ports and four USB 2.0 ports. It is both Mac and PC friendly and has up to a 32MB data cache. It is available now in seven different pre-configured models.
Newer Technology, Storage