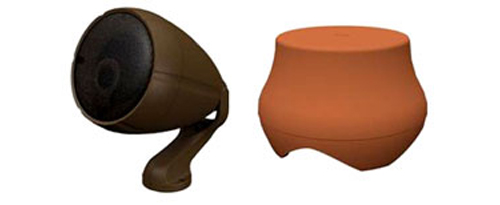 You want outdoors audio to compliment your peaceful garden but you don't want something pumping out sound which looks like your dad's subwoofer. Polk Audio thinks it has an answer to your prayers with its new Atrium outdoor speaker system, consisting of the Atrium Sat 30 satellite speaker and Atrium Sub 10 subwoofer, priced at around $180 and $330, respectively.
The Atrium Sat 30, according to Polk, looks like an outdoor light fixture in shape and style. It can be mounted in a variety of spaces, looking like it was made to fit into your garden. The Sat 10 subwoofer, meanwhile, resembles something like that of a plant stand or pedestal table. Both reportedly "are constructed from sealed, weatherproof designs," meaning you should be able to enjoy them even in the pouring rain.
Polk says the Sat 10 includes a "10-inch long-throw driver gives authoritative bass response down to 50 Hz, while the acoustically-matched two-way satellites provide smooth, vivid sonics out to an impressive 18 KHz, resulting from Polk Audio's use of a 3 ½" midrange driver and ¾" dome tweeter." Does that get you hot? You'll have until January to ponder that, when these products are due to be released. Doesn't it seem though they should have been released this summer?
outdoor gear, Polk Audio, Speakers