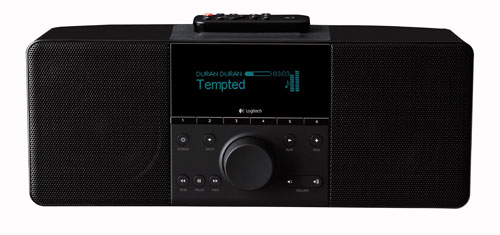 When I was growing up if you wanted music in different rooms of your house, it meant fighting over CDs with your siblings and owning multiple stereo systems. Thankfully, today most people buy their music digitally and network media players allow us to stream tunes wirelessly throughout the house to multiple users.
Logitech announced its latest Squeezebox model called the Boom all-in-one network music player. The Boom has an integrated amp, high-performance speakers, and simplified setup. All that is needed to set the Boom up is an AC outlet and a wireless network.
The Boom will automatically look for wireless networks in range and if found it will prompt the user for the network password if needed. Wireless connectivity is 802.11g and the Boom has dual Wi-Fi antennas. The amp is 30W and the Boom has a pair of 3.4-inch soft dome tweeters and a two 3-inch high-power, long-throw woofers. A headphone jack is included as well. The Squeezebox Boom will be available in September for $299.99.
Logitech, Network Music Player