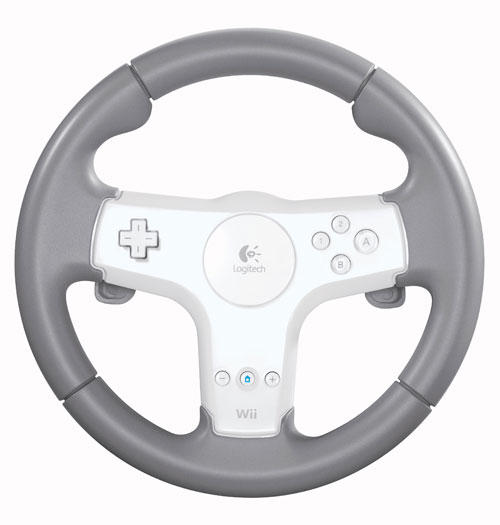 There's no denying that playing the Nintendo Wii is very fun with its unique control method. The one thing I don't like playing on the Wii is driving games. I don't care for steering the vehicle with the Wii remote turned sideways. I have wished for a real steering wheel on more than one occasion and Logitech has finally made my wish come true.
Logitech has announced the first force feedback wheel ever for the Nintendo Wii. The racing wheel is called the Logitech Speed Force Wireless racing wheel and is licensed by Nintendo. The wheel is easy to set up and store thanks to one-piece design that does not use pedals. Controls for brake and throttle are located on the wheel. Logitech equipped the wheel with an expandable lap rest that allows you to play while sitting on a chair or couch.
The wheel uses 2.4 GHz wireless technology providing a range of up to 30 feet from the console. The wireless receiver plugs into the Wii's USB port and the wheel requires an AC outlet for power. Logitech says the wheel is designed to work with the forthcoming Need for Speed Undercover game for the Wii and will support future force feedback titles. The wheel will be available in the US and Europe in November for $99.99.
Logitech, Wii