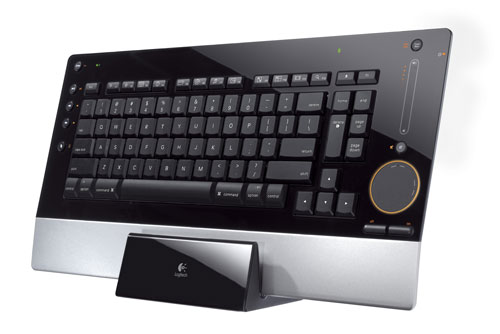 Logitech launched the diNovo Edge for Windows computers a long time ago, and it is one of the best keyboards ever from Logitech in the opinion of many users. I used one exclusively for a long time until I got tired of changing it out for my gaming keyboard every time I wanted to play a video game.
Mac users are being embraced by Logitech with a new version of the diNovo Edge designed specifically for the Mac. The keyboard is called the Logitech diNovo Edge Mac Edition and it is the first diNovo keyboard designed specifically for the Mac. The Mac edition of the Edge has all the features the original Edge offered including semi-translucent Plexiglas on the frame, orange backlighting, and a very thin 0.5-inch profile.
The palm rest is anodized aluminum and matches well with Mac notebooks. Unlike the original Edge, the Mac edition gets Mac specific shortcut keys for Mail, Safari, iTunes, and other Mac applications. The diNovo Edge is wireless and uses a rechargeable battery that can run an entire day on a ten-minute charge. The Mac edition diNovo Edge will be available this month for $159.99.
keyboard, Logitech, Mac