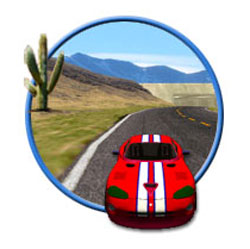 Now that Apple has launched the iPhone App Store, the iPhone has become a serious mobile gaming platform. I have downloaded a number of iPhone games and most often find the iPhone very good for gaming. A few of the games I have tried have problems with controls, but for the most part quality games work fantastically.
A company called Handmark has launched its first arcade-style racing game — called GTS World Racing — specifically for the iPhone that takes advantage of the accelerometer built-in the iPhone for controls. To get the car in the game to accelerate, brake, and steer you move the iPhone itself. The way you control most games for the iPhone reminds me a lot of the Nintendo Wii.
In addition to the interesting controls GTS World Racing, the game features 64 different track layouts and offers a choice of multiple car types along with multiple difficulty levels. The game also offers four different play modes including — Single Race, Challenge Cup, Grand Tour, and Championship. The game also works for the iPod Touch and is available from the App Store for $7.99.
iPhone, video game