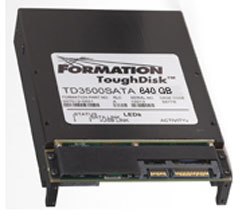 There are many places in the military and enterprise environments where a standard 3.5-inch hard drive just won't work. In the military, hard drives find their way into all sorts of applications from mobile command centers to aircraft where vibration and shock are big issues.
One provider of SATA hard drives — called Formation — has a hard drive that was designed especially for environments where a normal hard drive won't work and the only alternative is expensive, and lower capacity SSDs. Formation has announced that it has doubled the capacity of its ToughDisk 3500 SATA Rugged hard drive.
The capacity of the ToughDisk has gone from 320GB to 640GB. It is designed to operate reliably in environments with excess temperature, shocks, altitude, vibration, humidity and dust would destroy a normal drive. Formation also says that the vibration tolerance on the drive has increased by ten times compared to the previous generation.
hard drive, Rugged Hard Drive