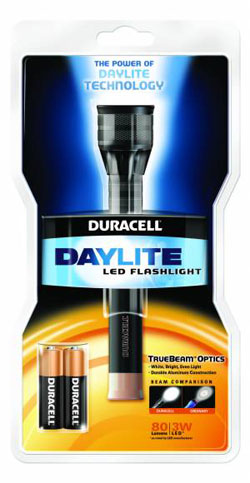 Most of us don't think much about flashlights until the lights go out and we need one. Many flashlights just aren't that bright with sickly looking beams that have lots of dark spots and don't offer much light. Duracell is one of the most common names in batteries and it has announced a new line of flashlights that it says are revolutionary.
The new line of Duracell flashlights are called Daylite and use LED bulbs. Duracell says that the typical flashlight only captures 70% of the total light in a 180-degree pattern. Duracell's new line of flashlights uses what it calls TrueBeam technology to capture up to 100% of the light in the same pattern.
The new line of Duracell flashlights will be available starting in August at large stores like Wal-Mart, as well as drug and hardware stores across the country. The flashlights will be available in three different models with AA and AAA powered models going to $24.99 and a CR123 model selling for $34.99.
Duracell, Flashlight