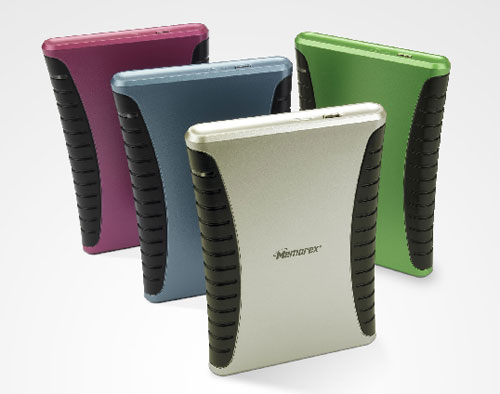 It used to be that a portable hard drive had to be plugged into the wall AC outlet to be able to operate. Over time, some smaller capacity hard drives could be powered by the USB port totally, making them much more portable. Today even some larger capacity portable drives are powered by the USB port.
Memorex announced its new line of portable hard drives today that are completely USB powered. The line is called the Memorex Essential TravelDrive. All of the drives are 2.5-inch and are compatible with both Mac and PC systems and backup software is included with the drives.
The line is available in 160GB, 250GB, and 320GB capacities and come in several colors. The drives are sized for portability and Memorex says that they can fit into a purse or laptop bag easily. The Essential line comes in colors like spring blossom, tropic green, Caribbean blue, and cool silver. The drives are available now starting at $89.99.
hard drive, Memorex