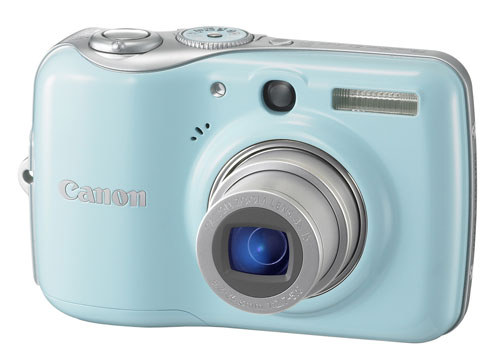 Teens and tweens don't normally want to use the same gadgets and electronics that their parents do. The younger crowd wants bright and colorful gear that is easy to use. More and more companies are starting to target this group of younger users with products specifically designed to grab their attention.
Canon announced several new cameras today and one of the new cameras is the PowerShot E1. Canon says that it designed the E1 specifically for the teen and tween age group. The E1 is available in blue, white, and pink colors and has a rounded design.
Features of the camera include 10-megapixel resolution, 4x optical zoom, optical image stabilization, Face Detection, and Easy mode. The rear LCD is 2.5-inches and the camera has built-in red-eye correction. Easy mode removes many of the options making the camera easy to use for young kids. The E1 will be available in September for $199.99.
Canon, digital camera