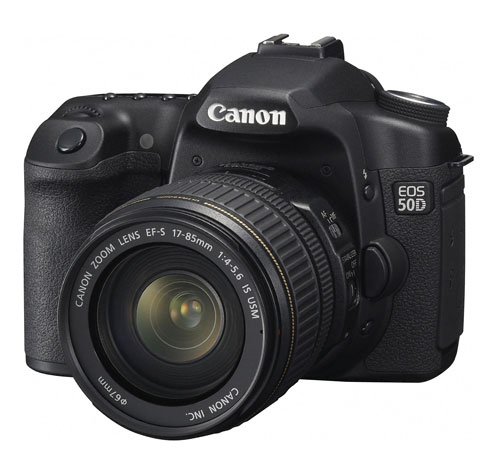 Over the last week some specifications and information has been popping up around the web about the Canon 50D DSLR camera. The images were met with welcome by some and as expected when things are leaked early — some called the camera a hoax.
Canon officially announced its EOS 50D DSLR camera today. The camera features a 15.1-megapixel sensor, and a host of other items to make using a DSLR easier for new users. The camera uses Canon's DIGIC 4 image processor and has an expanded ISO range of ISO 100 to ISO 12800. Several dust reduction features are included.
The camera has a .95x magnification viewfinder and features a 3-inch Live View LCD. The camera uses the high-performance autofocus system from the EOS 40D and has aperture settings of f/2.8 to f/5.6. A Creative Mode makes it easy for new users to get interesting images with plain worded settings like "blur background" and more. The 50D will sell for $1399 for the body alone or $1599 with an IF 28-135mm f/3.5-5.6 IS USM lens.
Canon, DSLR