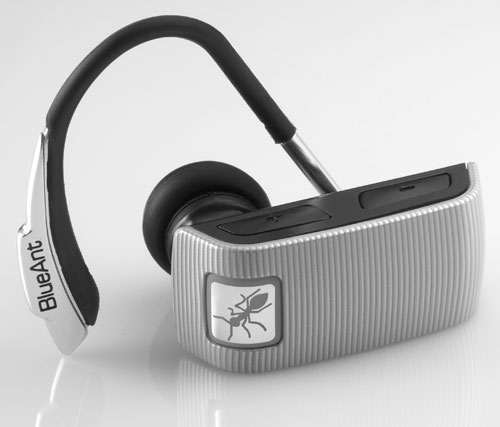 Bluetooth headsets are one of the most common accessories for many cell phone users. Many states require drivers to use hands free Bluetooth headsets or car kits. Mostly all the different brands of Bluetooth devices have the same features. BlueAnt has announced a new headset that adds something new to the common Bluetooth headset.
The headset is called the BlueAnt V1 with Advanced Voice Recognition. BlueAnt says that the V1 is the first headset produced to use the Bluetooth 2.1 specification. The headset uses BlueGenie Voice Interface to allow the user to control the headset and phone functions with their voice.
Users can say things like "Pair Me" or Answer/Ignore Call" and the headset will respond correctly. The V1 uses dual microphones for clear communications, Voice Isolation Technology, and features the ability to charge in the car and with USB. The V1 can pair with up to 8 devices and comes with a variety of tips for a comfortable fit. The headset weighs less than 0.35 ounces and has a clip for attaching to a shirt or tie when not in use. The V1 retails for $129.95.
BlueAnt, Bluetooth