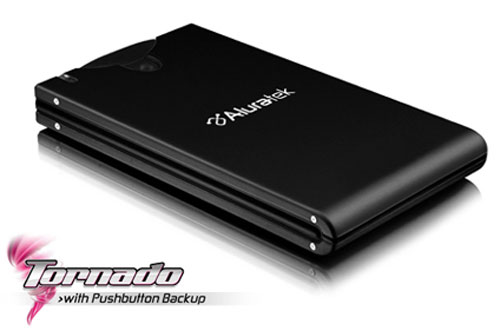 External hard drives are a great way to protect important data stored on your computer in the event of a computer crash. The bad part about external storage is that the drives are typically small and easy to steal. That means if the data on the drive is sensitive, you might want to encrypt the data.
The catch with encrypting data is that the data is only as safe as your password. Aluratek has introduced a new Tornado plus external hard drive that features RFID keys. The drive can't be accessed and the data stored on the drive won't be unencrypted without first swiping one of the two included RFID keys.
Once the key is swiped, the data is accessible. The drive can be had in capacities starting at 160GB and going to 1TB. Compatibility for the drives is with Windows and Mac operating systems. Pricing for the 160GB drive is $119 and the 1TB version retails for $249. The biggest problem I see here is that anyone who finds the RFID key could access the data, so keep it safe.
Aluratek, External Hard Drive, rfid