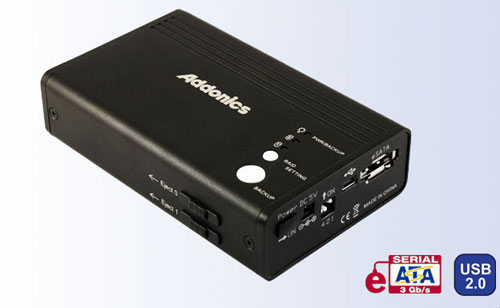 When it comes to backing up data on our computers most of us never do it. The sheer amount of data that could be lost to a hard drive crash on most user's computers is disturbing to think about. External hard drives are the storage solution of choice for users that have more data than a flash drive will hold or want an automated backup solution.
Addonics has a new external enclosure called the Portable Dual Drive Enclosure that supports dual hard drives and RAID configurations for even more data safety. The enclosure can hold dual 2.5-inch SATA hard drives 9 to 9.5mm in height. Using SATA-CF adapters, you the enclosure can also support up to four compact flash cards.
The enclosure has one button support for RAID and you can chose support for RAID-0, RAID-1, JBOD, BIG, SAFE50, SAFE33, or GUI modes using built-in hardware RAID. Addonics ships the enclosure with software allowing for backups and drive cloning. Connectivity options include USB and eSATA. The enclosure can be powered by the USB port or with an AC adapter. The Portable Dual Drive Enclosure is available now for $99.99.
Addonics, External Hard Drive