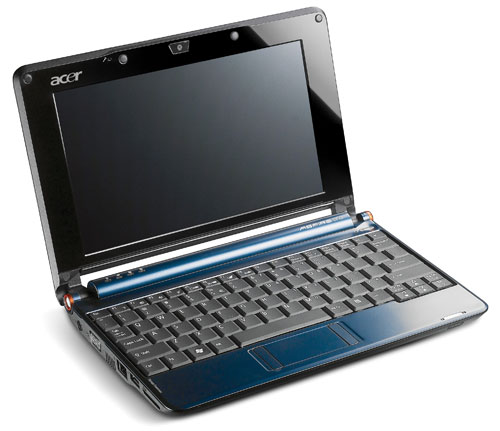 Netbooks are an interesting fad that was kicked off by the Asus Eee. The little systems are small, compact, and tend to be low cost. You can end up spending as much on a netbook as you could get a full-fledged notebook for though — if you are not careful. Back in July, Acer launched its netbook computer called the Aspire One.
Acer has now announced that the price of its Aspire One netbook has been dropped just in time for back to school. The Aspire One with Windows XP Home, 1GB of RAM, 120GB HDD, and a 3-cell battery will now retail for $349.99. A system with the same features running Linpus Linux will retail for $329.
Users needing a system with better specifications can get a version of the Aspire One with a 6-cell battery, 160GB HDD, and Windows XP Home for $399. All of the versions run on an Intel Atom processor and use an 8.9-inch LCD.
Acer, Netbook