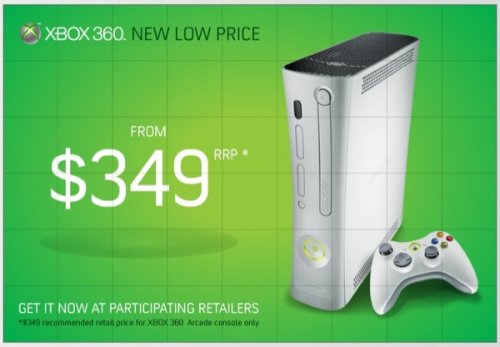 While those of us in the U.S. are still waiting patiently, Australia and New Zealand have discounted Xbox 360 pricing across the board. An update to the Aussie Xbox site shows a new starting price of $349 Australian dollars for the Xbox 360 Arcade (which sold for $399 yesterday). Interestingly, that makes it $50 cheaper than the Wii in Australia. They better secure their Kangaroos, stop wrestling with alligators and get to the store quick.
Xbox exec, Jeremy Hilton confirmed that the Xbox 360 Pro bundle has also been slashed. It's now $499 (was $579) and the Elite is now $649 (was $729). You might think this bodes well for some price cuts here in the U.S. as well, but check out this qoute regarding their strange pricing strategy: "One of the big changes Microsoft has made is that with price drops, you'd see the US would drop, and pretty much within two weeks we would drop as well. Now, it's very much the individual countries who manage what they feel would be best for their respective regions. In March we had a price drop in Europe, and in April we had a price drop in Asia. So we're definitely moving away from that big global strategy."

So I guess there's no guarantee that prices will drop here despite this latest turn.
Australia, Microsoft, price, xbox 360