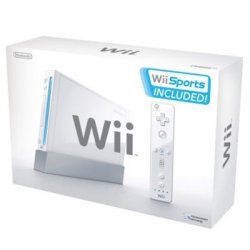 When the Wii game console could only play media on external discs the issue of storage was not a problem, but now that owners can download, store and play games online the issue of storage, as with competitor consoles such as the PS3 and Xbox 360, has suddenly become an issue.
Sure you can store some data onto SD cards and swap things in and out of 512MB of internal Wii storage, but that capacity is quickly becoming inadequate and is putting a damper on those wanting to download a lot of games not to mention the ability for Nintendo to sell more games online.
We've had some speculation that Nintendo could be making some external USB-connected storage, or could just be coming out with a firmware update to allow users to play games direct from SD cards but it's all guesses. Nintendo hasn't give any more clues to the direction either, aside from Nintendo of America president Reggie Fils-Aime letting us know that a solution to the Wii's measly storage capacity is something that Nintendo is taking seriously, calling it a "mainstream problem" in an interview with MTV Multiplayer. He added, "We have said publicly that we're looking hard at the storage situation, that we're working on a range of solutions".
Nintendo Wii, Storage, Wii, Wii Storage