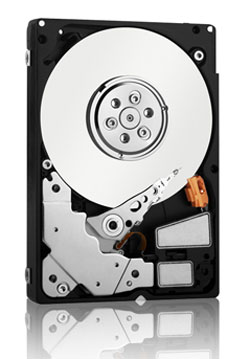 Hard drives improve in two ways—they gain storage capacity and they get faster. Most hard drives spin at 7,200 RPM or 5,400 RPM, though there are faster drives out there. Western digital makes the fastest consumer hard drive on the market called the VelociRaptor that spins at 10,000 RPM.
Western Digital introduced the 300GB 10,000 RPM VelociRaptor in April. Today Western Digital announced a 2.5-inch enterprise version of the VelociRaptor that shares all the same features with the 3.5-inch consumer focused VelociRaptor.
The enterprise version spins a 10,000 RPM and has the highest mean time between failure rating of any SATA drive on the market at 1.4 million hours. The drive has a 16MB cache and uses the SATA 3 GB/s interface. What's the difference between the two drives? The "new" enterprise version lacks the IcePack heatsink that the consumer version uses to make the 2.5-inch drive fit into 3.5-inch drive bays. Every other feature seems to be the same. No pricing information is known, but the enterprise version will be available later this month.
hard drive, Velociraptor, Western Digital