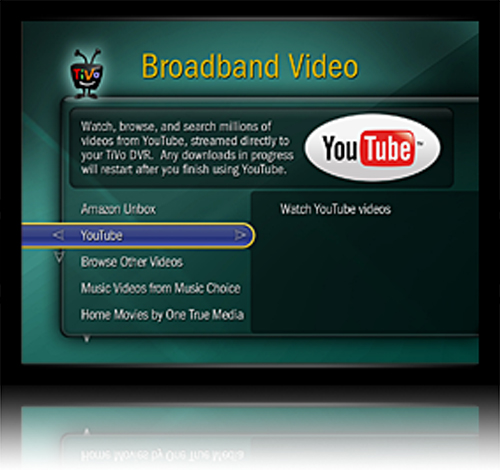 TiVo and YouTube, which announced plans earlier this year to unleash YouTube videos on TiVo set top boxes, made good on that promise today by kicking off said service. Get ready TiVo subscribers – YouTube videos of cheap dog tricks and people's virtual diaries are coming your way.
TiVo and YouTube specifically said this new partnership "allows broadband-connected subscribers with TiVo Series3and TiVo HD DVRs, to access hundreds of millions of user generated videos hosted on YouTube." You'll need a YouTube account to access this new TiVo feature, which will be made available when a new TiVo box software upgrade is rolled out.
"With YouTube content now available on TiVo, on top of all the movies, music videos, songs and TV shows that are simply unavailable on cable and satellite, TiVo subscribers have more choice on their TV sets than any other TV viewers in the world," said Tom Rogers, President and CEO of TiVo Inc.
Tivo, YouTube