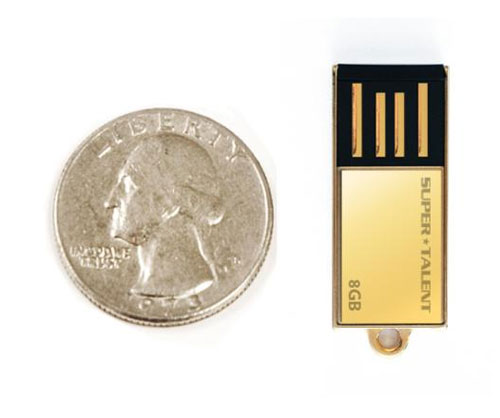 I guess to some users a flash drive is a fashion accessory since they come in all sorts of colors and a few different styles. You can look at the Mimobot's to see that some people like to collect flash drives for more than merely storing their music or porn.
Super Talent has announced its latest flash drive that is tiny and covered in 24k gold plate. The little drive is called the Super Talent PICO-C gold and packs 8GB of storage into a 31.3mm x 12.4mm x 3.4mm package.
Super Talent says that the drive is water and shock resistant and offers data speeds of 30MB/sec. The drive also includes a gold chain for carrying the drive that will probably turn your skin green. The drive is available online now for under $40.
flash drive, Super Talent