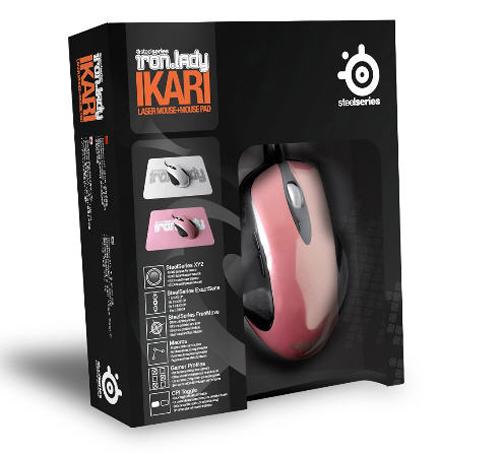 Professional gaming gear manufacturer
is making available a new bundle for all those lady gamers out there. It is called the Iron.Lady Bundle and you'll find it pricing around $100.
The SteelSeries Iron.Lady Bundle consists of a special SteelSeries mouse, mouse pad and branded wristband. The mouse is one of the company's Ikari mice. It operates at 1,000Hz and allows for hardware-based counts per inch (CPI) adjustments in increments of one, allowing for "precise adjustments…with a small LCD screen located on the bottom of the device which displays CPI."
As for the mouse pad, it uses a "high quality cloth"and non-slip rubber base to prevent the pad from sliding. The bundle will be available later this summer.
gaming accessories, mouse, SteelSeries